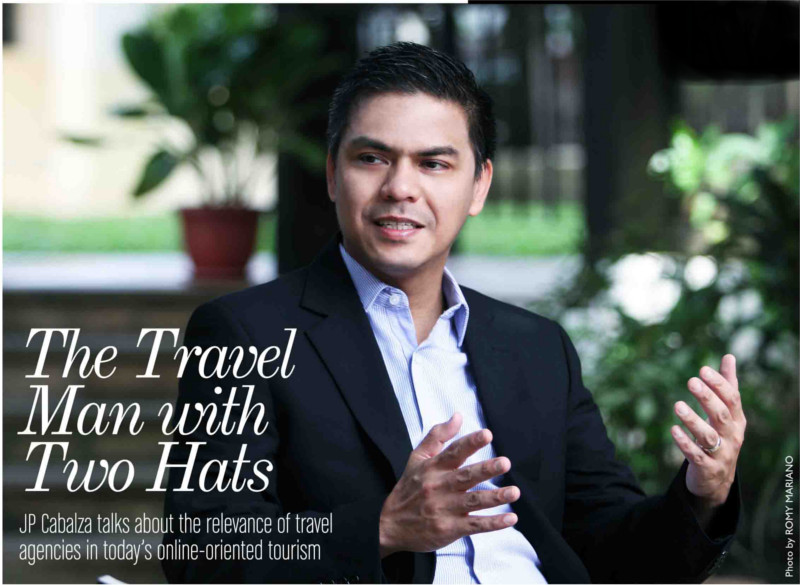 John Paul Cabalza or JP, the young and dynamic president of the Philippine Travel Agencies Association (PTAA) is wearing two hats this year - that of President of the 500-strong PTAA and Chairman of the 21st Travel Tour Expo scheduled Feb. 14 to 16, 2014 at the SMX Convention Center.
Their theme is very apt, which is 'Love Life, Love Travel' and among the exciting expo innovations will be the bigger participation of the Philippine Airlines who will occupy almost 1,000 square meters of space at the second floor to better serve those who will purchase air tickets at huge discounts! In previous expos, PAL's booths were always the most sought after with very long queues and waiting time, sometimes lasting 2 to 3 hours.
The expo expects close to 400 exhibitors that include airlines, hotels, resorts, country clubs, travel agencies, tour operators, transportation companies, and foreign embassies. In last year's expo, PTAA joined forces with the Japanese Embassy as well as Japanese firms to encourage expo participants to support Japan's need for more visitors after the major tsunami that hit northern Japan in 2011 and displaced thousands of people. The yearly PTAA expo has become a popular venue for countries like Japan who need support of the ever growing travelling population of the world.
I asked JP about how the traditional travel agencies, most of which are PTAA members, stay relevant in this era of 'online travel booking agents' or 'OTA's' who have already gained tremendous ground in terms of hotel room bookings. JP is quick to tell me that although they have learned to adapt to the changing times, travel agencies still play a very crucial role for the 'MICE' market (meetings, incentives, conventions and exhibitions) where personalized service is still the key. "PTAA provides continuing education to its members on how they can stay relevant and needed," he added.
Another major role of the PTAA is to liaise with government, particularly the Departments of Tourism and Foreign Affairs on issues affecting the tourism industry as a whole.
When asked about why the Philippines has always lagged behind tourism arrivals compared to Malaysia, Thailand, Indonesia, Singapore and Vietnam, JP contends that entry access to our country has always been a major issue. However, with many major developments in this arena particularly the signing of RA10374 that effectively eliminated both the common carriers tax and gross Philippine billings imposed on international airlines, more airlines are again interested to come back to the country (among them are KLM, Delta, Lufthansa, Saudia and Qatar Airways).
Apart from the entry access issue, JP said that we also have to be able to provide adequate services required by specific travelers like halal food for Muslims and tour guides with knowledge of the Korean language who can serve our biggest tourist market today, the Koreans. He reiterated that tourism infrastructure, particularly airports and additional runways, are a must at the moment. He also revealed that our five top foreign visitors are the Koreans, Americans, Japanese, Chinese, and Taiwanese. The Australians are catching up, landing at number 6.
Since JP, who is also managing director of his own travel agency, Central Bancorporation Travel & Leisure, Inc. (Cencorp), champions domestic tourism, I asked him to name 5 destination in the country with the greatest tourism potential. This is what he revealed: 1. Baler in Aurora province; 2. Samal Island in Davao; 3. Palaui Island in Cagayan province; 4. Caramoan Island in Camarines Sur; and 5. Ilocos Norte.
When I interviewed JP for this column, he was accompanied by his well-bred 12-year-old son Migs who kept himself busy with his iPad. JP believed that a good life-work balance reduces our daily stresses. He engages in sporting activities like bastketball, swimming, and makes time to visit the gym. With his free time, he spends it with his wife and Migs.