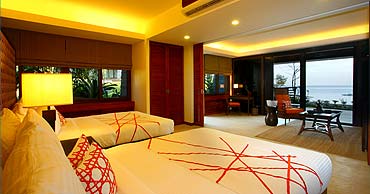 The ASYA PREMIER SUITES in Boracay, one of the most luxurious resorts in the Island has re-engaged VIC ALCUAZ through 2016 for a series of human capital interventions from January to July.
Among these interventions are Organisational Development, Re-writing of the Resort's Vision, Mission and Value Statements, Compensation & Benefits Design, Re-writing of Employee Policies & Procedures, Re-writing of the Code of Discipline, Designing of an 'employee-centric' Orientation Program, Train The Trainers Program and Staff Climate Survey.
In 2015, VIC ALCUAZ was engaged to run two programs specifically: SERVICE EXCELLENCE for all frontline staff and the formulation and writing of the resort's GUEST CENTRIC STANDARDS & PROCEDURES.
VIC ALCUAZ will be assisted by his consulting partner ANABELLE OCHOA throughout the engagement.